Alternate formatting for smaller screens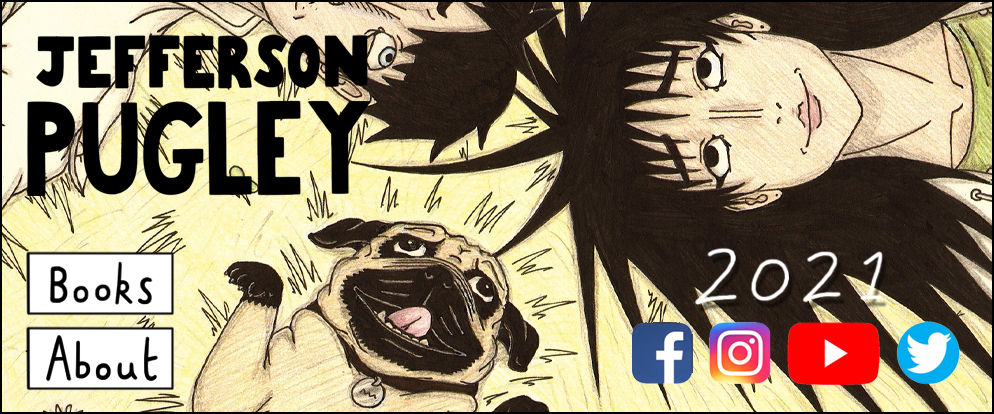 About Jefferson Pugley

Jefferson Pugley is the zaniest of works by UK based comic creator Eamon Standing, who started his comics career in late 2007 with his first work, "Tallisman Rogue", a political slice-of-life thriller aimed for a more mature audience than the Pugley comics. Along with this first work and a pilot for another more mature comic, "The Setting", Jefferson Pugley made his public debut at the October 2011 MCM Comic Convention, the first to be attended by Eamon as a creator.

Shortly after this first convention, seeing the struggles of other creators to find information on how to be an independent comic producer, Eamon founded the "Comic Village Alliance", now CVA, which has since served as a major hub for UK comic creators with around 1500 members to date. If you are interested in becoming an independent comic exhibitor at conventions, feel free to join.

"Jefferson Pugley's Pyroclastic Hoobajoob" was the first one-shot about our titular pug dog and his misadventures. Initially conceived as an unassumingly dark joke to sell in contrast to his other works, Jefferson Pugley was widely celebrated by fans of Eamon's work, prompting a demand for more Pugley which could not be ignored.

Given this demand, Tallisman Rogue was put on hiatus in early 2012 to pursue the creation of the next two Pugley books, "Jefferson Pugley: Brollercoaster Extraordinaire", and "Jefferson Pugley Versus Jeffreson Pugsley", with the aim that these first three books would be compiled into the first Jefferson Pugley trilogy. Shortly after finishing these stories, Eamon started working towards a PhD in physics which inevitably took a large amount of time away from comics.

Despite this, Eamon still regularly attended MCM London Comic Con and released a few works before his final appearance in 2015, after which point he would need to concentrate on writing his thesis. In order to go out with a bang, the first book of the second Jefferson Pugley trilogy, "Jefferson Pugley Takes To The Skies", was released. The demands of the PhD and the toll they had taken on Eamon were clearly present in this much more existential and emotional story.

Three years later in late 2018, "Jefferson Pugley V: Bad Medicine" was released marking the end of the long break that had been taken from creating comics. Truly, the "V" denoted a marker in the Pugley series that Doctor Eamon Standing, was a vastly different person to the Eamon Standing that wrote the previous books, and that while the first four books could be read in any order, the latter two should be read sequentially with the others preceding them.

The next year would be spent continuing to piece back together the comic creating version of Eamon Standing, and consequently the Jefferson Pugley of old. In late 2019, after many months working to perfect the art, the final book of the second Jefferson Pugley trilogy was released: "The Trial And Sentence Of Jefferson Pugley".

This website was set up to celebrate the completion of the second Jefferson Pugley trilogy and the definitive return of its author to the world of comics. Eamon Standing greatly thanks all readers for taking the time to experience and enjoy the Jefferson Pugley stories. You can keep updated with new Eamon Standing and Jefferson Pugley content on the social media channels shown at the top of the page. Alternatively, if you wish to send your comments to Eamon himself, fan or business mail should be sent to mimeo@tallismanrogue.com.

Please enjoy this year of Jefferson Pugley
and we thank you all for your support.
© 2019 Eamon Standing / Mimeo All Rights Reserved | Jefferson Pugley Website Terms of Use